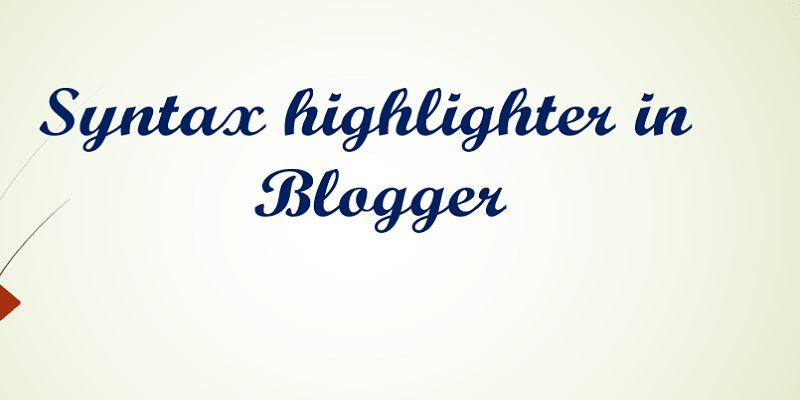 In Blogger there is no default option to add syntax highlighter.When we post any source code on the blogger then we are always scared about its readability.
It's really a nightmare to add syntax highlighter in blogger, but when I went through a JavaScript tool named syntax-highlighter then I found it is very easy to add syntax highlighter in Blogger.
In this article, I will describe some steps to how to add syntax highlighter in blogger.
There are following steps to add syntax highlighter in blogger
First, you have to take backup of your blogger template because you will change the html code of your blogger template. So it can be possible your template code may be the crash.
Open your blogger template in html mode & copy the all CSS code from this link before the

</b:skin>

tag.
Copy the flowing code before the

</head>
<script

src

=

"http://syntaxhighlighter.googlecode.com/svn/trunk/Scripts/shCore.js"

type

=

"text/javascript"

>

</script>

<script

src

=

"http://syntaxhighlighter.googlecode.com/svn/trunk/Scripts/shBrushCpp.js"

type

=

"text/javascript"

>

</script>

<script

src

=

"http://syntaxhighlighter.googlecode.com/svn/trunk/Scripts/shBrushCSharp.js"

type

=

"text/javascript"

>

</script>

<script

src

=

"http://syntaxhighlighter.googlecode.com/svn/trunk/Scripts/shBrushCss.js"

type

=

"text/javascript"

>

</script>

<script

src

=

"http://syntaxhighlighter.googlecode.com/svn/trunk/Scripts/shBrushDelphi.js"

type

=

"text/javascript"

>

</script>

<script

src

=

"http://syntaxhighlighter.googlecode.com/svn/trunk/Scripts/shBrushJava.js"

type

=

"text/javascript"

>

</script>

<script

src

=

"http://syntaxhighlighter.googlecode.com/svn/trunk/Scripts/shBrushJScript.js"

type

=

"text/javascript"

>

</script>

<script

src

=

"http://syntaxhighlighter.googlecode.com/svn/trunk/Scripts/shBrushPhp.js"

type

=

"text/javascript"

>

</script>

<script

src

=

"http://syntaxhighlighter.googlecode.com/svn/trunk/Scripts/shBrushPython.js"

type

=

"text/javascript"

>

</script>

<script

src

=

"http://syntaxhighlighter.googlecode.com/svn/trunk/Scripts/shBrushRuby.js"

type

=

"text/javascript"

>

</script>

<script

src

=

"http://syntaxhighlighter.googlecode.com/svn/trunk/Scripts/shBrushSql.js"

type

=

"text/javascript"

>

</script>

<script

src

=

"http://syntaxhighlighter.googlecode.com/svn/trunk/Scripts/shBrushVb.js"

type

=

"text/javascript"

>

</script>

<script

src

=

"http://syntaxhighlighter.googlecode.com/svn/trunk/Scripts/shBrushXml.js"

type

=

"text/javascript"

>

</script>
Before the

</body>

tag, add the following source code.
<!--

Script for syntax highlighting -->

<script

language

=

'javascript'

>

dp

.

SyntaxHighlighter

.

BloggerMode

(

)

;

dp

.

SyntaxHighlighter

.

HighlightAll

(

'code'

)

;
Save the blogger template.
Now your syntax highlighter is ready. When you want to post your source code on blogger then just simply open the page in html mode and paste the source code between the

<pre></pre>

Tag.
<pre

class

=

"Language"

name

=

"code"

>
 Some Important points
Only copy the CSS script of required language.
Before saving the template, you should see the preview of implemented source code.