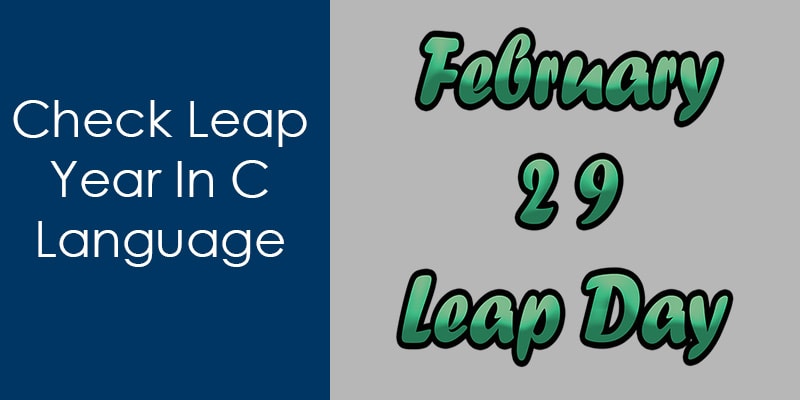 Leap year have an additional one day.This additional one day add in February month.We can check leap year in c language with the help of small algorithm.
Steps to check a leap year
When year divided by 400 then leap year.
When a year divided by 4 and not divided by 100 then leap year.
Algorithm to check leap year
ELSE

IF

year

MODULER

100

IS

0

ELSE

IF

year

MODULER

4

IS

0
Program to check a leap year
Source Code 1:
1

2

3

4

5

6

7

8

9

10

11

12

13

14

15

16

17

int

IsLeapYear

(

int

year

)

{

// Function to check leap year.

if

(

year

%

4

!=

0

)

return

0

;

if

(

year

%

100

!=

0

)

return

1

;

return

(

year

%

400

)

==

0

;

printf

(

"Enter the year:"

)

;

(

IsLeapYear

(

uiYear

)

?

printf

(

"Leap Year."

)

:

printf

(

"Not Leap Year."

)

)

;
Source Code 2:
1

2

3

4

5

6

7

8

9

10

11

12

13

14

15

16

17

printf

(

"Enter the year:"

)

;

if

(

(

uiYear

%

4

==

0

)

&&

(

uiYear

%

100

!=

0

)

)

{

}

else

if

(

uiYear

%

400

==

0

)

{

printf

(

"Not leap year\n"

)

;
Source Code 3:
1

2

3

4

5

6

7

8

9

10

11

12

13

14

15

16

17

printf

(

"Enter the year:"

)

;

if

(

(

uiYear

%

400

==

0

)

||

(

(

uiYear

%

4

==

0

)

&&

(

uiYear

%

100

!=

0

)

)

)

{

printf

(

"Not leap year\n"

)

;